Supplies:
Orange Fimo or Sculpy oven-hardening clay
Green Fimo or Sculpy for leaf and vine
Brown Fimo or Sculpy for stem
Brown Stain
Toothpick
Aluminum Foil
1 Tissue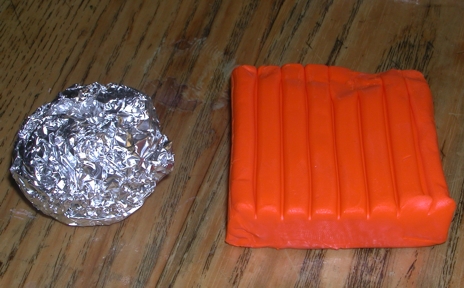 Roll a tissue into a ball. Cover it with a 6" x 6" or so piece of aluminum foil, and roll this between your palms to form a rough ball.
Break off about 1/5th of the orange clay from the package, and roll into a ball. Then, flatten it with your fingers.
Place this flattened clay around the tinfoil ball. Smooth this with your fingers as you go. Make it into your pumpkin shape.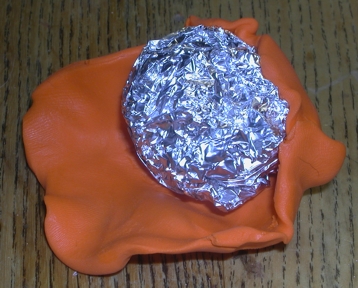 If you encounter foil popping through the clay, you can add and smooth another piece of clay over it.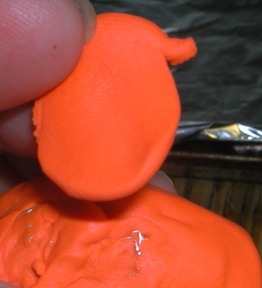 Take the toothpick and make the 'lines' of the pumpkin. You can also use the toothpick to make other marks on the pumpkin.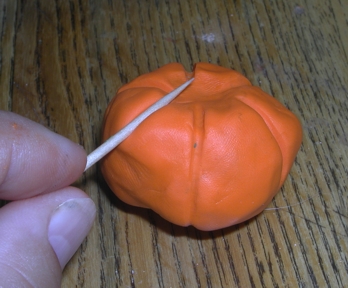 To make the leaf, form a small ball, flatten it, and use your toothpick to cut 'leaf' shapes in the edges. You can then add the leaf 'lines' or 'veins'. Put it at the top of your pumpkin.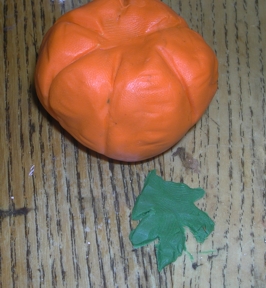 Roll a very small piece of brown for the stem. Use your toothpick to shape it into a stem.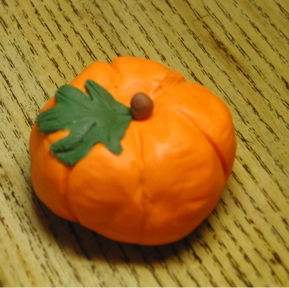 Once the stem and leaf are in place, you will want to add a vine. Roll a small piece of the green you used for the leaf into a 'string'. You can vary the thickness of this, according to how thin or thick you need your vine to be. Pumpkin vines are 'curly', so just twirl it on the pumpkin as you like.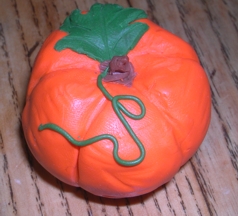 THIS IS THE TIME TO BAKE THE PUMPKIN ACCORDING TO THE DIRECTION ON YOUR CLAY PACKAGE. MAKE SURE TO FOLLOW THESE DIRECTIONS EXACTLY. MAKE SURE TO BAKE IN A WELL-VENTILATED AREA.
Check out Julie Old Crows' other tutorials:
http://yummyminiaturefoods.blogspot.com/